February 1, 2015 - Premiere - Romance Writers of America
From Romance Writers of America® comes a never-before-published collection of tales that showcases the breadth and complexity of the world's most popular genre of fiction!
From the first love of Young Adult romance to tales of second chances, LGBT romance to the realms of the supernatural, contemporary to historical, suspense to inspirational, the genre of romance has a story for every reader and this blockbuster inaugural collection from Romance Writers of America showcases it all!
February 10, 2015 - The Ruby Circle (Bloodlines #6) by Richelle Mead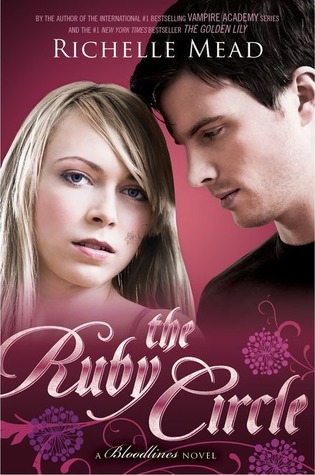 The epic conclusion to Richelle Mead's New York Times bestselling Bloodlines series is finally here...

Sydney Sage is an Alchemist, one of a group of humans who dabble in magic and serve to bridge the worlds of humans and vampires. They protect vampire secrets—and human lives.

After their secret romance is exposed, Sydney and Adrian find themselves facing the wrath of both the Alchemists and the Moroi in this electrifying conclusion to Richelle Mead's New York Times bestselling Bloodlines series. When the life of someone they both love is put on the line, Sydney risks everything to hunt down a deadly former nemesis. Meanwhile, Adrian becomes enmeshed in a puzzle that could hold the key to a shocking secret about spirit magic, a secret that could shake the entire Moroi world.
Feb. 10 - The Bold and the Dominant (The Doms of Her Life #3)
Shayla Black, Jenna Jacob, Isabella LaPearl
After spending weeks trying to reach Raine Kendall, Dominants Liam O'Neill and Macen Hammerman have finally broken past the walls to their submissive's wounded heart. Before they can enjoy their newfound closeness, Liam's past comes back to haunt him when his ex-wife drops in—with a secret that could tear his world apart. Forced to leave Raine in Hammer's care, Liam is stuck on the outside, stewing in frustration and insecurity…and wondering if Raine no longer needs him or if Hammer alone completes her.

Always the pillar of strength, Hammer tries to help Liam while sheltering their woman. But Raine soon discovers the truth that threatens the trio's chance of a happily-ever-after. Determined to hold them together, the two men cook up a scheme to uncover the ex's secret. When an old nemesis returns and targets Raine, can Liam and Hammer come together to slay the danger and save the woman they both love?
Feb. 17 - The Master (the Game Maker #2) Kresley Cole
A need colder than Siberian winter meets an attitude hotter than the Florida sun in #1 New York Times bestselling author Kresley Cole's sultry new Game Maker novel.

Everyone fears the Master…
Rich, irresistible politician/Mafiya boss Maksimilian Sevastyan prefers tall, obedient blondes to fulfill his…complicated desires. That is, until the icy Russian encounters a disobedient brunette whose exquisite little body threatens his legendary restraint.

Except her.
Catarina Marín was a well-off young wife until her world fell apart. Now she's hiding out, forced to start working as an escort in Miami. Her very first client is beyond gorgeous, but when he tells her what he plans to do to her, Cat almost walks out of the door.

If pleasure is a game, play to win.
After their mind-blowing encounter burns out of control, the lovers crave more. If they escape the deadly threats surrounding them, can Maksim overcome his past—to offer Cat his future? Only then will she tempt him with what he really wants: her, all tied up with a bow.
March 3 - His to Take (Wicked Lovers #9) Shayla Black
Racing against time, NSA Agent Joaquin Muñoz is searching for a little girl who vanished twenty years ago with a dangerous secret. Since Bailey Benson fits the profile, Joaquin abducts the beauty and whisks her to the safety of Club Dominion—before anyone can silence her for good.

At first, Bailey is terrified, but when her captor demands information about her past, she's stunned. Are her horrific visions actually distant memories that imperil all she holds dear? Confined with Joaquin in a place that echoes with moans and breathes passion, he proves himself a fierce protector, as well as a sensual Master who's slowly crawling deeper in her head…and heart. But giving in to him might be the most delicious danger of all.

Because Bailey soon learns that her past isn't the only mystery. Joaquin has a secret of his own—a burning vengeance in his soul. The exposed truth leaves her vulnerable and wondering how much about the man she loves is a lie, how much more is at risk than her heart. And if she can trust him to protect her long enough to learn the truth.
March 24 - The Dangers of Dating a Rebound Vampire
(Half Moon Hollow #3) Molly Harper
In the next book in Molly Harper's beloved Half Moon Hollow paranormal romance series, Gigi starts her first job (at Vampire Headquarters), gets over her first love, and may even fall for her first vampire!

Gigi is no longer an innocent teen. All grown up and looking for love, her family and friends worry she'll go for the sexy, alluring vampire instead of a nice, safe human. But sexy and alluring, with a penchant for biting, could be just what Gigi wants...
March 31 - The Shadows (Black Dagger Brotherhood #13) J.R. Ward
Two brothers bound by more than blood fight to change a brutal destiny in the heart-wrenching new novel of the Black Dagger Brotherhood by #1 New York Times bestselling author J. R. Ward.

Trez "Latimer" doesn't really exist. And not just because the identity was created so that a Shadow could function in the underbelly of the human world. Sold by his parents to the Queen of the S'Hsibe as a child, Trez escaped the Territory and has been a pimp and an enforcer in Caldwell, NY for years- all the while on the run from a destiny of sexual servitude. He's never had anyone he could totally rely on... except for his brother, iAm.

iAm's sole goal has always been to keep his brother from self-destructing- and he knows he's failed. It's not until the Chosen Serena enters Trez's life that the male begins to turn things around... but by then it's too late. The pledge to mate the Queen's daughter comes due and there is nowhere to run, nowhere to hide, and no negotiating.

Trapped between his heart and a fate he never volunteered for, Trez must decide whether to endanger himself and others- or forever leave behind the female he's in love with. But then an unimaginable tragedy strikes and changes everything. Staring out over an emotional abyss, Trez must find a reason to go on or risk losing himself and his soul forever. And iAm, in the name of brotherly love, is faced with making the ultimate sacrifice...
And finally, no set date - but L.J. Smith hopes to finish Strange Fate this calendar year and have it released soon after.
Here is an excerpt from the book. Click here to read it. Also, she has shared the first chapter on facebook, read it here.
I hope you enjoyed this installment of, As the Pages Turn, please tune in next week for more updates. ;)