Beyond the Night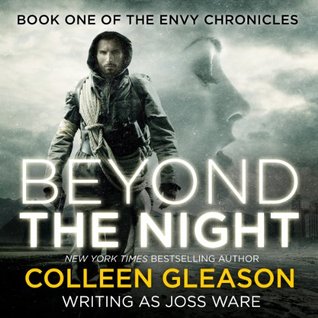 Everything they knew is gone...
From the remnants of devastation, five men emerge with extraordinary new powers. They are humankind's last hope, but they cannot survive this devastated world alone.

When Dr. Elliott Drake emerges from a cave after traveling fifty years through time, the world as he knew it is gone. Cities are overgrown jungles, and what's left of civilization has been repressed by crystal-wearing immortal beings. But even more unsettling: Elliott has acquired an extraordinary ability--the power to heal.

But even that gift, in a world that lacks the technology and infrastructure of his past, is a two-edged sword for Elliott.

Jade Kapiza, who'd been imprisoned by the immortal beings, has been in hiding for years. But now she's determined to help the human race fight back against the control of her captors. She can trust no one...but when Elliott comes into her life, he pushes at her defenses and begins to tear down the walls she's built so carefully.

Yet the mysterious doctor seems to have secrets of his own. Can Jade trust Elliott with her heart, even as they risk their lives to save a band of innocents?

And can Elliott find a new place for himself--a home--in this new, ravaged world?
Review:
I enjoyed this book a lot more than I thought I would.
When reading in the paranormal genre, I tend to stick with my beloved vampires. I'm not a fan of werewolves or shape-shifters, and I'm generally not into zombies. I also prefer either very well written historical romances, or present day - I've never been into the dystopian, or apocalyptic settings.
With that said, Colleen Gleason is one of my all time favorite authors, (The Gardella Vampire Hunters is my absolute favorite series, and I loved The Draculia Vampire series) so I decided to give this series a try as well.

I was pleasantly surprised by the flow of the book. Often in post apocalyptic books you spend a great deal of time on details - what happened, starting the rebuild, finding people, etc. But with Colleen's exceptional way with words you get all the information you need to understand the storyline without being bombarded with boring details, and she pulls you into the mystery with a promise of something big to come. It always amazes me with I can clearly picture the scene in my head without every single detail being written out for you!

The characters were all very well planned out. They work so well together, each one with a unique personality and background. I don't want to give anything away, so I'll leave it at that.

This book is full of surprises and you'll be on the edge of your seat at times! Plenty of suspense and sexual tension.

I'd recommend this book to just about anyone, take a chance on it - it's worth the read.