VENOM – The Reawakening Series
book 1
Daniele Lanzarotta
Synopsis:
Things have always been complicated for Sarah. She was one of the few forbidden vampires who were turned as a child. She was a vampire for over 300 years, until the day she was given angel blood.

She is now mortal, but her life is far from normal.

Sarah lives with two vampires: Harvey, and her brother Nicholas. Together, they do what they can to keep her hidden from their kind.

But between her desire to live a normal human life and her brother's inability to truly let go of his past, it's only a matter of time until they are found.
Author: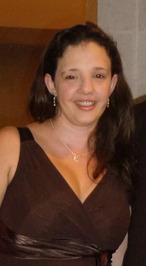 Daniele Lanzarotta is the author of YA and NA paranormal/fantasy novels, including the Imprinted Souls Series, Academy of the Fallen, and Mermaid's Curse.
She has a bachelor's in business and finance and a MBA. With only a few semesters left in school, Daniele started writing as a hobby, but it didn't take long for her to be consumed by her stories. That is her passion, and she now has several projects under way.
She enjoys reading and writing young adult novels with just about any sort of paranormal or supernatural bent...vampires... ghosts... She also enjoys watching hockey, playing rock band, guitar hero and spending time with the family.
Stalking Links:
www.facebook.com/authordanielelanzarotta
www.twitter.com/danilanzarotta
www.danielelanzarotta.com
Goodreads: https://www.goodreads.com/book/show/15810379-venom?ac=1
Buy Links:
Kindle US - http://www.amazon.com/Venom-The-Reawakening-Series-Book-ebook/dp/B00P9SM826
Kindle UK - http://www.amazon.co.uk/Venom-Reawakening-Book-Daniele-Lanzarotta-ebook/dp/B00P9SM826
Nook - http://www.barnesandnoble.com/w/venom-daniele-lanzarotta/1120722349?ean=2940150443525
eBooks and signed paperbacks - www.rsplaunchpad.com
Signed paperbacks - www.danielelanzarotta.com