Great news, we've been nominated for the Versatile Blogger Award! Thank You Lexi, Lexie Reads!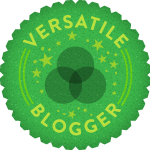 The rules for this award are as follows:
1. Nominate 15 fellow bloggers who are relatively new to blogging




2. Let the nominees know that they've been nominated




3. Share 7 random facts about yourself




4. Thank the blogger who nominated you




5. Add the Versatile Blogger award picture to your post
My 7 random facts:
I am an absolute diehard football fan.

♥

HOUSTON TEXANS

♥

Every year we try to attend at least one game, and this year we even ordered NFL Sunday Ticket! I can't wait for the season to start.

I love to take random pictures, and they usually don't make sense to anyone else.

Until a few years ago I hated to read, but vampire romance saved my life. ;)

I've had 3 Mustangs, 66, 85, 04, and aside from trying to talk my husband into a new Camero - it will probably be the only car for me for life. lol

I LOVE my job working at a school, but I do not want kids, ever! I enjoy my quiet house in the evenings. I have 4 cats instead that keep my busy.

I only drink water from a bottle, no tap for me.

I've been married for 7 years, together for 13.
My 15 Nominees:
This was unexpected, but fun! Thank you Lexie. :)