For fans of FIFTY SHADES OF GREY and BARED TO YOU. In RELEASE ME, powerful multimillionaire Damien Stark made Southern belle Nikki Fairchild an unforgettable indecent proposal which she couldn't resist. Now their sensual, erotic, powerfully emotional romance continues in CLAIM ME, the next in J. Kenner's internationally bestselling trilogy.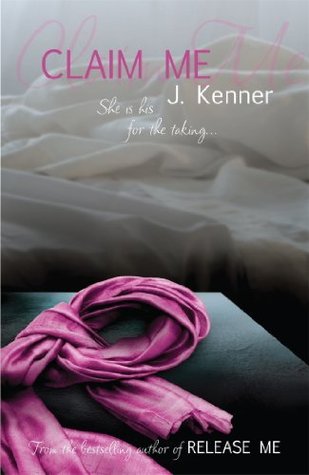 For Damien, our obsession is a game. For me, it is fiercely, blindingly, real.
Damien Stark's need is palpable—his need for pleasure, his need for control, his need for me. Beautiful and brilliant yet tortured at his core, he is in every way my match.

I have agreed to be his alone, and now I want him to be fully mine. I want us to possess each other beyond the sweetest edge of our ecstasy, into the deepest desires of our souls. To let the fire that burns between us consume us both.

But there are dark places within Damien that not even our wildest passion can touch. I yearn to know his secrets, yearn for him to surrender to me as I have surrendered to him. But our troubled pasts will either bind us close . . . or shatter us completely.



Release Me is an erotic romance intended for mature audiences.
Review:
Claim Me was MUCH better than Release Me, and I will definitely be reading the conclusion, Complete Me.
There was more story to grasp onto in the second book, not to mention more action, both in the bed and out. The couple faces the everyday lifestyle problems of the rich and famous, most notably the paparazzi. I love the few mentions of TMZ, I could see the tour bus in my head following them around the streets of LA and Harvey bashing them from the office. lol
They are each battling things from their past as well, and it all comes crashing down on them - forcing them to face their demons head on.

Seriously though, 'your like a drug to me... I don't have the strength to deny myself...' I felt like I was being pulled in to the TWILIGHT zone. HA Then the several mentions of lip biting, some Fifty Shades action for you too.

Other then that it was worth the read.
Damien shows more character in this one, and he isn't the same crazy controlling Billionaire that Mr. Grey is, turns out this one has some feelings that he's willing to show and isn't quite as broken.

Off to read the next book...