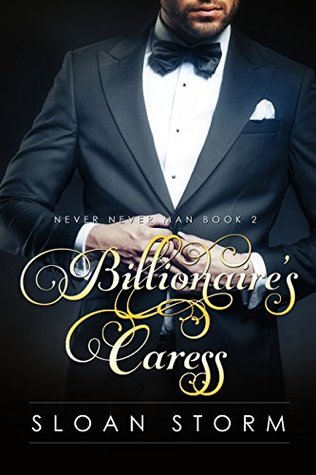 I should have known better. A deal struck with a man like Grey Sinclair comes with strings. And even though he hasn't tied me up, yet, it's not long before I find myself wrapped around his little finger.

I'm finding success at last, but it comes at a price... his. I'm not sure how much longer I can pay it.

In fact, I feel as if I'm reaching a point of no return.

So why does a part of me enjoy it?
Review:
This was another great book by Sloan Storm!

Billionaire's Caress picks up shortly after Billionaire's Pursuit ends.
Maddie has moved her business into a large office space, hired some new staff members, and she has a brand new luxury apartment that Grey frequents from time to time.

You'd think she would be happy, but borrowing money from Grey Sinclaire turns out to be more than she bargained for. Despite her finding a way around him owning 51% of her company, Grey is still controlling her every move. He's trying to teach her how to be a better business woman, but she's tired of him stepping in for every decision!

While she's frustrated with him over the business, she can't get enough of him in the bedroom. Their sexual chemistry is off the charts, and as Grey tries to keep her at arms length, Maddie is trying hard not to fall in love with him!
Release Date: April 22, 2015

They say you can't go home again. Believe me, I've tried. Hell, I've done almost everything I can think of to escape Grey's controlling ways but it's no use, he's relentless.

After all, I've already surrendered my body to him. How much more will he take?

How much more can I give?
Review:
I received this book from the author for an honest review.

I read this book in one sitting, and talk about CLIFF HANGER! Wow.

This was another great book by Sloan Storm. With each book we dig deeper into the characters personalities, and I have to say, Maddie comes off as a spoiled brat! Grey is giving her everything that she needs to be a successful business woman and she resents him for it! She's on a route to self destruction... will she make it this time, or will Grey once again step in and save the day?

Grey is fighting for control, not only over Maddie, but for his feelings towards her. He desperately wants to keep her at arms length as he's done with every other woman in his past, but she's working her way into his heart and he doesn't know how to deal with that.

This is the most emotional book in the series so far. Raw passion, depression, love, desperation...