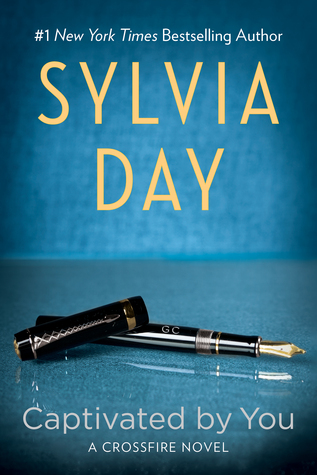 Now the #1 international bestselling author returns. The new Crossfire novel by Sylvia Day.
Gideon calls me his angel, but he's the miracle in my life. My gorgeous, wounded warrior, so determined to slay my demons while refusing to face his own.

The vows we'd exchanged should have bound us tighter than blood and flesh. Instead they opened old wounds, exposed pain and insecurities, and lured bitter enemies out of the shadows. I felt him slipping from my grasp, my greatest fears becoming my reality, my love tested in ways I wasn't sure I was strong enough to bear.

At the brightest time in our lives, the darkness of his past encroached and threatened everything we'd worked so hard for. We faced a terrible choice: the familiar safety of the lives we'd had before each other or the fight for a future that suddenly seemed an impossible and hopeless dream...
Review:
This was another awesome book by Sylvia Day! I couldn't put it down!

I usually do not care for dual POV books, but in this case it was perfect. Hearing the story from Gideon's side made the book all the more interesting! This book focuses more on the emotional side of their relationship.

Now that they are secretly married, hiding it from the world, especially their friends and family, is causing tension. With each new book, the couple faces new threats. Shadows from Gideon's past come back to haunt them, and they've all figured out that Eva is his only weakness! But when Eva's rock star ex boyfriend decides he wants her back it send Gideon over the deep end.

He'll do anything to keep her safe and in his arms!

This book takes us on an emotional roller coaster, and I can't wait for the next one!