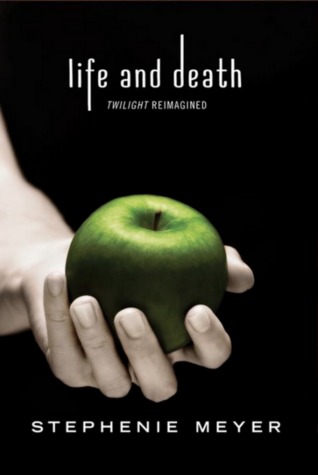 Celebrate the tenth anniversary of Twilight! This special double-feature book includes the classic novel, Twilight, and a bold and surprising reimagining, Life and Death, by Stephenie Meyer.
This edition features nearly 400 pages of new content as well as exquisite new back cover art. Readers will relish experiencing the deeply romantic and extraordinarily suspenseful love story of Bella and Edward through fresh eyes.
Review

:
I'll admit, I was intrigued by this gender swap idea, I wanted to see how much of the story would remain the same and if the characters would really work in reverse.

Sometimes I wish my curiosity didn't get the better of me...

I loved Twilight, it is what started my love of reading. With that said, this was no Twilight. It's almost as bad as some of the fan fiction that I've seen online. While the writing is good, the characters are not! You cannot give a male character all the quirks that Bella had and expect him to be likable. He came off as weak and pathetic - I'm pretty sure Bella was stronger than he is - and the first time he started to tear up I was nearly done. I wanted to bury the book in the back of my shelf never to be seen again...

I pushed on though, through the mundane daily routine of a high school boy that is obsessed with a girl. Not just any girl, a tiny girl that acts like a man at times and an obsessed teen girl at others. The amount of detail that was put into the extra days at school and his inner monologue were way over the top! I think Stephenie Meyer took all the criticism of her original story to heart, at least when it came to the I Love You's... it's ridiculous how many times it's said in this book!
At first I thought it was going to be the same story start to finish, but finally it started to differ a little, with a few of the original scenes. Near the end when they find themselves in the ballet studio is when the story finally changes completely. This is the only thing that saved the book. I would have rated it a 2 otherwise (points for the writing ability).

In my opinion this is a failed experiment. The role reversal does not work. If she wanted to give the readers something new, it should have been something we actually wanted - like a completed Midnight Sun. The few chapters that were released were even better than the original story and I would LOVE to read the whole story from Edwards pov.
I give this barely 3 Stars