Young adult Paranormal, Fantasy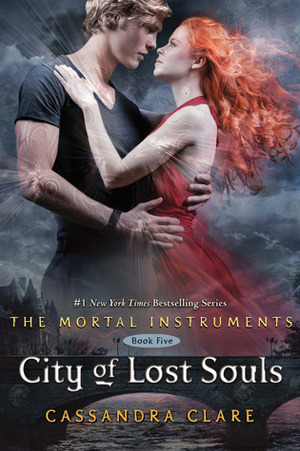 The New York Times bestselling Mortal Instruments continues—and so do the thrills and danger for Jace, Clary, and Simon.

What price is too high to pay, even for love? When Jace and Clary meet again, Clary is horrified to discover that the demon Lilith's magic has bound her beloved Jace together with her evil brother Sebastian, and that Jace has become a servant of evil. The Clave is out to destroy Sebastian, but there is no way to harm one boy without destroying the other. As Alec, Magnus, Simon, and Isabelle wheedle and bargain with Seelies, demons, and the merciless Iron Sisters to try to save Jace, Clary plays a dangerous game of her own. The price of losing is not just her own life, but Jace's soul. She's willing to do anything for Jace, but can she still trust him? Or is he truly lost?

Love. Blood. Betrayal. Revenge. Darkness threatens to claim the Shadowhunters in the harrowing fifth book of the Mortal Instruments series.
Review:
City of Lost Souls was much better than City of Fallen Angels, the action is definitely back!
It started off a little slow and I was gearing up for more disappointment, but a few chapters in and the pace picked up.
As I mentioned in my review of CoFA, there were more story lines to follow in this book, so it wasn't just Clary crying over Jace... (there seems to be a pattern in these books, one always needs saving; why can't they save someone else together?!)
Anyway, we follow the strange love story of Alec and Magnus. (Alec comes off as such a baby to me. Yeah, your boyfriend is 800 years old, I'm sure he's had a few partners... get over it. It's really annoying) The typical teenage relationships between Simon and Izzy, and Jordan and Maya. (how sad is it that the closest thing to typical teenagers in this series is a daylighter vamp with a shadowhunter, and the tragic love story of two orphaned wolfs?!)There is the hint of the Lightwood parents relationship throughout the book, and of course Clary's mom and Luke.
And then there is the strange relationship between Clary, Jace, and Sebastian. At one point you almost feel bad for the guy, but then just can't - and you want to yell at Clary for being stupid, really stupid.
I do like that Clary hasn't just forgive her mother, and everything is back to normal. She stands up for herself, and I think Isabelle stands up to Clary's mom because she can't bring herself to stand up to her own parents yet.
There were some slow parts, and a few small parts that should have been taken out in editing... they were pointless to the story because nothing came from it. It's as if it was a possible idea that was forgotten and never explored. Other parts were built up to be something so important, and then were over in a few sentences like it was nothing.. no big deal.
With that said, overall it was a good read. I'd give it 3.5 - 4 stars.
Check out my reviews for the rest of the series: