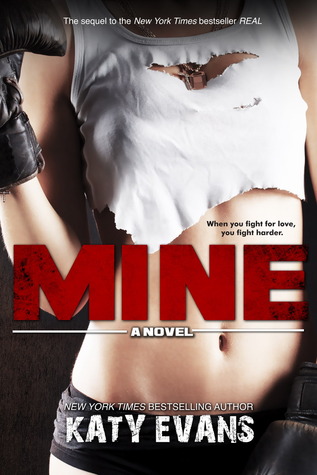 He's mine, and I'm his. Our love is all-consuming, powerful,
imperfect, and real...

In the international bestseller REAL, the unstoppable bad boy of the Underground fighting circuit finally met his match. Hired to keep him in prime condition, Brooke Dumas unleashed a primal desire in Remington "Riptide" Tate as vital as the air he breathes... and now he can't live without her.

Brooke never imagined she would end up with the man who is every woman's dream, but not all dreams end happily ever after, and just when they need each other the most, she is torn away from his side. Now with distance and darkness between them, the only thing left is to fight for the love of the man she calls MINE.
Review:
(Beware of Spoilers)
This one is 3 1/2 stars for me...

I love that this book picks up basically where the first one left off.
I still love Remy, but Brooke kind of got on my nerves after a while. I feel like all the characters grew except Brooke and Nora... You can't be pissed about something when you left, it's not cheating when your not together.

There were a few twists and turns, but I feel like there could have been more when it came to scorpion. Seems like there was this huge build up and then nothing, he just disappears from the story until the very end. We spend a good portion of it focused on the pregnancy, and maybe that is why I didn't love this book. I don't have kids, I don't want kids, and I surely don't want to read about the process.

Not sure if I'll be continuing with the series, while I really do love the characters and the story I am just not a fan of family stories. For me it takes away from the fantasy and makes it less interesting.