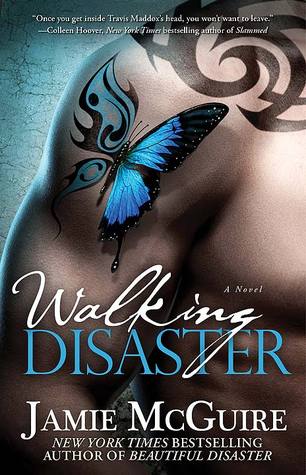 The highly anticipated follow-up to the New York Times bestseller Beautiful Disaster.

Can you love someone too much?

Travis Maddox learned two things from his mother before she died: Love hard. Fight harder.

In Walking Disaster; the life of Travis is full of fast women, underground gambling, and violence. But just when he thinks he is invincible, Abby Abernathy brings him to his knees.

Every story has two sides. In Beautiful Disaster, Abby had her say. Now it's time to see the story through Travis's eyes.
Review:
I really enjoyed this book!

I read the books back to back and despite reading the same story twice but from different pov's, I never once felt like I was reading the same story. I mean, yes I knew the the basics of what was going to happen, but the story was told in such a way that it kept things interesting!
The author did recount every single thing that happened in the first book, just the important parts and then added so much more that we had no idea was going on behind the scenes in the first book. I loved it.

I've read several series where authors try to write the same story from another pov, but none have been quite as well planned out as this one. A huge thumbs up to Jamie McGuire for pulling it off flawlessly.

This book had me falling in love with Travis all over again.
4.5 Stars